This is an archived article and the information in the article may be outdated. Please look at the time stamp on the story to see when it was last updated.
Three 18-year-olds were among the four people killed in a crash along the 110 Freeway interchange with the 91 Freeway in Gardena early Sunday, the California Highway Patrol reported.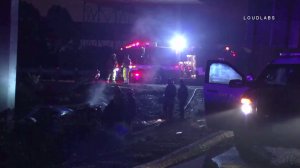 The single-car crash, which involved a blue Ford Probe, was reported about 3:30 a.m. on the northbound side of the highway where it meets with the westbound 91, officials said.
The driver was apparently traveling at a high rate of speed when the vehicle crashed into a guardrail, went down an embankment and caught fire, according to the CHP.
The victims were initially trapped inside the car but were declared dead at the scene.
In a news release issued Sunday evening, the CHP said one of the victims was an 18-year-old female from Compton, an 18-year-old male driver from Inglewood and an 18-year-old male passenger. The age of the fourth victim, also a male, was not released.
A SigAlert was issued in the area about 3:40 a.m. and the interchange remained closed until 11:30 a.m., the CHP reported.
SIGALERT CANCELLATION IN GARDENA: NB I-110 TRANSITION TO WB SR-91 IS NOW OPEN

— CHP PIO – LA County (@CHPsouthern) November 27, 2016
KTLA's Geoff Peters contributed to this story.