This is an archived article and the information in the article may be outdated. Please look at the time stamp on the story to see when it was last updated.
Two Los Angles schools were locked down Tuesday following a robbery and shooting at the corner of East 41st Place and South Avalon Boulevard (map), authorities said.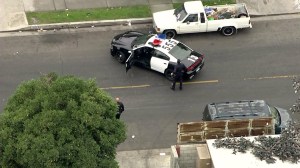 The schools were placed on a precautionary lockdown at 7:50 a.m., according to officials with the Los Angeles Unified School District.
The schools involved were Harmony Elementary and Wadsworth Elementary, the LAUSD said.
Lockdowns at both schools had been lifted as of 1:15 p.m., according to LAUSD police.
In a separate incident, Loren Miller Elementary and the attached Wanda Mikes Children's Center were locked down after a man who was believed to be carrying a weapon was spotted at the elementary school.
No gunman or weapon were found during the investigation.