This is an archived article and the information in the article may be outdated. Please look at the time stamp on the story to see when it was last updated.
Four alleged gang members entered not guilty pleas Thursday on murder charges in the Los Angeles shooting death of a 7-year-old boy — a crime that was described by prosecutors as being part of "four-month shooting spree."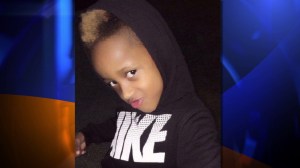 Taalib Pecantte died after being shot in the back on Dec. 2, 2013, in the Mid-City neighborhood as he sat in a car with his mother and her boyfriend. Police had described the incident as a gang-related ambush.
The four men charged with Pecantte's killing were also charges in several other shootings in what the Los Angeles County District Attorney's Office described as a "shooting spree" involving 12 victims between September and December 2013.
Tradel Billy Faniel, 28, Paul Eugene Jamar Jr., 19, Danielle Tonano Peters, 31, and Windel Roman Faniel, 26, were charged in a 12-count felony criminal complaint.
They pleaded not guilty at an arraignment hearing at Airport Courthouse on Thursday afternoon. Cameras were not permitted in the courtroom.
In the incident that left Pecantte dead, the four men were each also charged with two counts of attempted premeditated murder.
Tradel Faniel was also charged with murder in the death of Charles Hall, 17, who was shot Sept. 1, 2013, according to the DA's office. Tradel Faniel also faces three counts of attempted, premeditated murder in connection with that incident, a criminal complaint states.
Prosecutors have not yet decided whether to seek the death penalty or life in prison without parole for Tradel Faniel.
In connection with an Oct. 12, 2013, shooting, Jamar and Windel Faniel were each charged with one count of attempted premeditated murder.
A Nov. 26, 2013, shooting prompted four counts of attempted premeditated murder against Jamar and Peters.
At Thursday's hearing, Tradel Faniel was denied bail. Bail was set at $8 million for Jamar, $7 million for Peters, and $1 million for Windel Faniel, according to DA's office spokesman Ricardo Santiago
The four were set to return to court on March 10, Santiago said.