This is an archived article and the information in the article may be outdated. Please look at the time stamp on the story to see when it was last updated.
Four children who were allegedly abducted by their biological parents from their grandmother's Boyle Heights home were found Tuesday at the Mexico border, but the parents were still being sought, authorities said.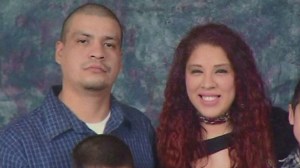 Mother Rosa Chairez and father Enrique Felix were accused of kidnapping the children on Friday, March 14, according to Los Angeles police had said.
The parents were only permitted to have supervised visitation with the children — whose maternal grandmother had legal custody of them — in the presence of social workers.
The four children — 1-year-old twins, a 5-year-old and a 7-year-old — were found on the U.S. side of the California-Mexico border at 10:15 a.m. Tuesday, according to CHP Officer Tony Polizzi.
The parents remained outstanding and may have crossed into Mexico, according to the state's Emergency Digital Information Service.
An Amber Alert had been issued for the children after the couple allegedly removed them from the grandmother's home.
"When one of the children opened the door, both the father, Enrique, and the mother, Rose, entered the residence," Los Angeles Police Department Capt. Martin Baeza said Tuesday. "Enrique held the grandmother while Rose took the twin girls out of her arms, and then took the other two."
The children's paternal grandmother called police Tuesday to say that she had the children and was at the U.S.-Mexico border.
The children were set to be placed into protective custody by the county Department of Children and Family Services, Baeza said.
The FBI, U.S. Border Patrol and Mexican authorities were working with LAPD to get the parents in custody on suspicion of kidnapping. Warrants have been issued for their arrest, Baeza said.
KTLA's Jennifer Thang and Liberte Chan contributed to this article.