This is an archived article and the information in the article may be outdated. Please look at the time stamp on the story to see when it was last updated.
Four men sitting under a tree were injured when the driver of a pickup truck tried to flee a parking enforcement officer and backed into a grassy area in MacArthur Park Thursday afternoon, Los Angeles authorities said.
The crash was reported around 12:40 p.m. at the park, which is located in the 690 block of South Park View Street in the Westlake neighborhood.
The four men, between ages 24 and 35, were in critical condition, according to the Los Angeles Fire Department.
The driver of a black Dodge Ram pickup truck saw a city parking enforcement officer approaching, prompting the motorist to put the vehicle in reverse and accelerate, jumping the curb and continuing on until he hit the victims, Los Angeles Police Department Officer Aareon Jefferson said.
"Right now, we're treating it as an accident," Jefferson said on scene. "With every case, we want to investigate whether alcohol or drugs were involved."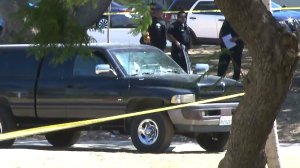 Some of the patients were placed on gurneys and taken to awaiting ambulances, video from Sky5 showed. They were transported to Los Angeles County-USC Medical Center, according to LAFD spokeswoman Margaret Stewart.
The victims were all initially reported to be in critical condition, according to Stewart. Jefferson later said only two victims suffered life-threatening injuries.
The driver, who was evaluated on scene, declined transport to a hospital, LAFD stated in an alert.
Lt. Cliff Humphris of LAPD's Rampart Division confirmed the driver has been detained, but was unsure if he had been arrested.
He was later released after questioning, LAPD Capt. Andrew Neiman told the Los Angeles Times.
A witness told KTLA the driver lives out of his pickup truck with at least one dog. He parks the truck on the edge of the park, the witness said.
KTLA's Jennifer Thang contributed to this story.