This is an archived article and the information in the article may be outdated. Please look at the time stamp on the story to see when it was last updated.
Police are searching for three men and one woman after a string of burglaries caught on security video in San Pedro, the Los Angeles Police Department announced on Tuesday.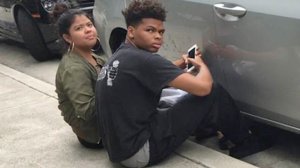 The four burglaries all occurred during the month of September in the same neighborhood, police said in a press release.
Police were first called to a home in the 1400 block of Brett Place around 3 p.m. on Sept. 14 after reports of a residential burglary. The alleged burglars broke a sliding glass door on the side of the home and stole jewelry, computers and gaming consoles, police said.
The group then allegedly broke into the front window of a home in the 1200 block of Park Western Drive, directly across the street from Brett Place, on Sept. 15 around 3 p.m.
The alleged burglars followed up these break-ins with another burglary at a home in the 1300 block of Park Western Drive on Sept. 18 around 8 p.m.
There, they entered the home through an unlocked front window and may have still been inside when the victim returned to their residence, according to police. The group fled the scene through a rear window, police said.
The last burglary occurred on Sept. 25 around 3 p.m. at a home in the 1300 block of Capitol Drive. The alleged burglars broke a front window, ransacked the home and stole computers and gaming consoles, according to police.
"Broke the glass here but they couldn't get in. Then they actually kicked the door in," said Jimmy Chaney, a resident of one of the burglarized homes. "[They stole] a laptop, a PS3 and some games."
Witnesses told police they saw the group jumping security gates in the area, authorities said.
Residents told KTLA they believe the group is friends with a man who rents a condominium in the area.
"We know who they are; we've got their names and the police have their fingerprints. We know the car they drive," said Raul Urbine, a neighbor. "I called all my neighbors and I said 'this is going on, this is the picture.' We all need to be collectively watching our neighborhood."
Anyone with information about these incidents is asked to call LAPD Harbor Burglary Detective Guevara at 310-726-7855 or Officer Baran 310-726-7856.