This is an archived article and the information in the article may be outdated. Please look at the time stamp on the story to see when it was last updated.
Police were investigating a stabbing at a Fullerton nightclub on Sunday morning that left four people injured, authorities said.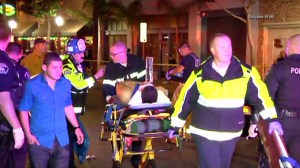 The stabbings occurred around 1:20 a.m. at the Continental Room, which is located in the 100 block of West Santa Fe Avenue (map), according to the Fullerton Police Department.
The bar was packed at the time of the incident, authorities said.
Three men and a woman suffered moderate injuries in the attack and were taken to a local hospital, according to police. They were expected to survive.
The victims, who are all in their 20s, did not know each other, police said.
It was unclear whether the victims were inside or outside the nightclub when they were stabbed.
The person or people responsible for the attack have not been caught, according to police.
"It's a really cool place, the Continental. As a matter of fact, it reminds me of something in 'Goodfellas,' the movie," said Robert Brocki, a Fullerton resident. "If you go in there, it's got those red lights and everything, and it's just got a really cool feel to it.
"In general, this is a great town. It's a great city," he added. "It's just … there's always a bad apple that spoils stuff."
KTLA's Dave Mecham and Geoff Peters contributed to this report.