This is an archived article and the information in the article may be outdated. Please look at the time stamp on the story to see when it was last updated.
Four of five people suspected in an armed robbery in Anaheim have been taken into custody after leading authorities on a pursuit to Compton Friday morning.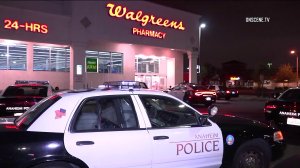 Officers responded to an armed robbery call at the Walgreens located in the 100 block of South State College Boulevard about 2:45 a.m., Anaheim Police Department Sgt. Ryan Tozzie said.
Three men and a woman entered the store where one of them pulled out a gun and demanded money from the register, Tozzie said.
The robbers then fled the store with cash and got into a silver vehicle that was waiting for them, Tozzie said.
Responding officers saw the suspected robbers driving away and tried unsuccessfully to pull them over.
The vehicle entered the westbound 91 Freeway, prompting a pursuit that would continue all the way to Compton.
At one point during the chase the suspected robbers began throwing money out of the windows, Tozzie said.
The vehicle eventually came to a stop near the intersection of South Visalia Avenue and East Darlan Street where two people got out of the vehicle and ran.
Three others remained with the vehicle and were arrested.
Officers found and arrested a fourth person, but one suspect is still outstanding, Tozzie said.
In all, there were four men and one woman involved in the incident, Tozzie said..
Authorities recovered a gun and cash from inside the vehicle.
No injuries were reported during the incident.