This is an archived article and the information in the article may be outdated. Please look at the time stamp on the story to see when it was last updated.
Four teens detained in connection with the violent beating death of a USC graduate student were charged Tuesday with capital murder.
Jonathan Del Carmen, 19, Andrew Garcia, 18, Alberto Ochoa, 17, and Alejandra Guerrero, 16, appeared at a downtown Los Angeles courtroom, where their arraignment was postponed until Aug. 12.
The foursome have been accused in the death of 24-year-old student Xinran Ji, who left a trail of blood back to his apartment after a violent confrontation near 29th Street and Orchard Avenue (map), a few blocks from the University of Southern California campus.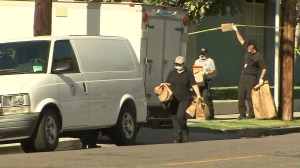 Ji, an engineering student from China, was returning from a group study session early July 24 when he was attacked. He was found dead by his roommate about six hours after the assault.
Police on Monday called his death a "senseless" killing that stemmed from an attempted robbery.
All four suspects were charged with one count each of murder with the special circumstance of murder during an attempted robbery; Garcia, Ochoa and Guerrero were charged with a special allegation that they used a dangerous weapon, a bat, in the beating, according to the Los Angeles County District Attorney's Office.
The DA's office provided the names of the two minor suspects, which had not been previously released by police. The juveniles are being charged as adults, according to a spokeswoman for the DA's office.
Police also had not confirmed Monday that a bat was used to kill Ji.
Following the attack on Ji, the group drove to Dockweiler State Beach, where Garcia, Ochoa and Guerrero allegedly approached a man and woman and robbed the woman.
The male victim escaped and flagged down police, according to the DA's office.
Garcia, Ochoa and Guerrero also were also charged with one count each of second-degree robbery, attempted second-degree robbery and assault with a deadly weapon, a bat, in the second incident.
A fifth suspect, a 14-year-old girl, was also held on suspicion of involvement with the Dockweiler attack, police had said Monday.
Prosecutors planned to ask that the suspects be held without bail.
A decision on whether to seek the death penalty against Garcia and Del Carmen will be reached later, the DA's office said. Ochoa and Guerrero are not eligible for the death penalty, but could face life in prison without parole if convicted.
No booking photos of the suspects have been released.
Editor's Note: An earlier version of this story did not include the names of the juvenile suspects because they are underage. However, once KTLA learned Ochoa and Guerrero were being charged as adults, they were identified, per station policy.