This is an archived article and the information in the article may be outdated. Please look at the time stamp on the story to see when it was last updated.
Five teenage passengers were killed and a 16-year-old driver who did not have a license was severely injured early Saturday morning when a car veered off the southbound 5 Freeway in Irvine and crashed on an embankment, authorities said.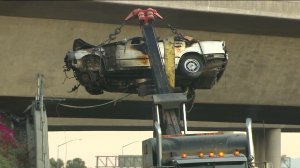 The collision, which occurred about 2:15 a.m. just north of Alton Parkway (map), caused a quarter-acre brush fire, said Capt. Steve Concialdi of the Orange County Fire Authority.
Officers were initially unable to approach the four-door BMW sedan because it was engulfed in flames, according to Officer Florentino Olivera of the California Highway Patrol. Firefighters from three stations responded to the crash site and extinguished the blaze within 30 minutes.
Four occupants of the car were pronounced dead at the scene soon after first responders arrived; a fifth body was later discovered inside the vehicle. The victims were described as two females and three males, one of whom was an 8th-grader.
The three men were identified as Alex Sotelo, Matthew Melo and Brandon Moreno by their soccer coach Billy McNicol of Mission Viejo Soccer Club, who said the families had been informed.
The male driver, who was either ejected from the car or climbed out after it came to a stop, was transported to Mission Hospital with a severe head injury, officials said. He told firefighters that the group of teens had been returning from Knott's Scary Farm, an annual Halloween event at the Buena Park theme park.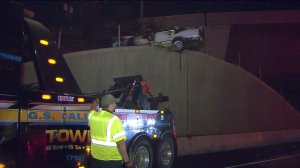 The cause of the incident is under investigation, but CHP officials said the driver did not have a license.
"We're not sure what happened, but we do have skid marks" at the crash site, Olivera said, adding that speed may have been a factor. It was too early to tell if drugs or alcohol were involved, he said.
Three lanes on the southbound 5 Freeway were expected to remain closed until at least 9:30 a.m. as crews worked to clear the scene, the CHP said. Two lanes remained open.
The BMW was hoisted from the embankment by a crane after coroner's officials removed the bodies from the vehicle.
KTLA's Ashley Soley-Cerro contributed to this report. 
More videos: