This is an archived article and the information in the article may be outdated. Please look at the time stamp on the story to see when it was last updated.
A man from Orange is accused of drunken driving after triggering a four-vehicle wreck that claimed the life of a woman and a 9-year-old girl on the 22 Freeway in Garden Grove early New Year's Day, authorities said.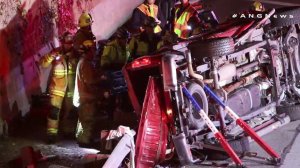 The deadly collision took place just before 1 a.m. Tuesday on the westbound 22 Freeway, east of Valley View Street, according to the California Highway Patrol.
Melvin Cleveland Branch was booked on suspicion of DUI and gross vehicular manslaughter while intoxicated, CHP Sgt. April Carter said. He turned 30 on New Year's Eve.
He was at the wheel of a BMW sedan traveling at "an extremely high rate of speed" when it rear-ended a Lexus in the carpool lane, Carter said.
The Lexus careened into a sound barrier wall along the right shoulder, officials said. The BMW continued forward and slammed into a 2010 Ford F-150 pickup truck being driven by a 33-year-old Hawthorne woman. A 9-year-old Hawthorne girl was riding as a passenger, according to CHP and Orange County Department of Coroner's records.
The pickup truck overturned onto its side and skidded across traffic lanes, still being pushed by the BMW, until both vehicles struck a guard rail and came to a stop, Carter said.
A Mazda sedan struck the overturned pickup truck and crashed into the center divider during the chain-reaction crash, CHP officials said.
The woman and child in the pickup truck died from their injuries, authorities said. Their identities were not released Tuesday pending notification of family by coroner's officials.
Branch suffered minor injuries in the crash, according to Carter. The drivers of the Lexus and the Mazda were unhurt.
Officers determined Branch was under the influence of alcohol and arrested him, the sergeant said. Once placed in the back of a patrol car, he kicked out a rear window and jumped out before being recaptured, she added.
Branch's bail was set at $100,000 pending his initial court appearance, scheduled Wednesday in Orange County Superior Court.
Authorities shut both directions of the 22 Freeway for nearly 10 hours as they investigated the scene and collected evidence scattered across both sides of the roadway, Carter said.
With many on the road this New Year's Day, she advised motorists to slow down as they traveled to their destinations.
"It's the holiday weekend. We're just asking everyone to slow down and take your time to wherever that you are going," Carter said.