This is an archived article and the information in the article may be outdated. Please look at the time stamp on the story to see when it was last updated.
A man believed to have fatally shot a 4-year-old boy and wounded a 27-year-old man had a fight earlier in the day with child's mother's boyfriend, authorities said Wednesday evening.
The boyfriend may have been the one of the shooter's intended targets, a sheriff's lieutenant said.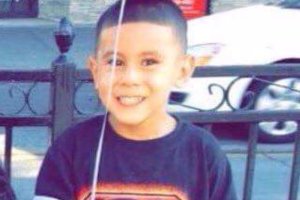 The boy, identified as Salvador Esparza III by the Los Angeles County coroner's office, was struck by gunfire about 10:30 p.m. Tuesday at a home in the 300 block of Figueroa Drive, the Los Angeles County Sheriff's Department stated in a news release.
The 27-year-old man, unrelated to Esparza, was shot in the lower extremities. He was hospitalized and was expected to recover.
Both of the victims were visiting the home when the shooting occurred.
The gunman, believed to live in the neighborhood, had an altercation in the street an hour or two before the shooting with the boy's mother's boyfriend, who lives at the home, sheriff's Lt. John Corina said.
"Some people were drunk and started getting into it a little bit. … It got heated," Corina said.
The boyfriend and the boyfriend's brother were believed to be the shooter's intended targets, the lieutenant said.
"What's tragic is a person decides he wants to solve his problems by picking up a gun and shooting into a house," he added.
The shooter walked up to the house from Olive Avenue, fired at least 13 rounds, and then ran down the street and fled in a black car. Authorities initially believed the shooting was a drive-by and reported it as such, Corina said.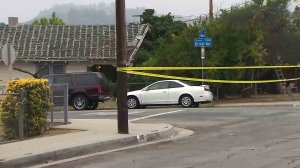 The victims saw the man who shot at them, Corina said.
"He has a history," Corina said, adding that the shooter may be a gang member. "I think everybody involved in this has a history."
Several other young children were at the home and were sleeping when the shooting occurred, Corina said.
The person being sought was only being described as a person of interest, and a description of him was not being released.
Neighbor Cameron Jackson heard the gun shots.
"We all came outside to see what was going on. … I saw the mom … she was screaming 'my baby, my baby,'" Jackson said.
Both victims were taken to a local hospital, where the child later died, the Sheriff's Department stated.
Family friend Veronica Rodriguez described Salvador as a happy child who loved soccer and said his mother was heartbroken.
"Right now, she's just having a hard time," Rodriguez said.
Anyone with information was asked to contact the Sheriff's Department at 323-890-5500. Those who wish to remain anonymous can call Crime Stoppers at 800-222-TIPS.
Here's how you can help the family of the 4-year-old boy killed in an Altadena shooting https://t.co/ZgCMvtTCKl pic.twitter.com/wwOugkQJQi

— SGV Tribune (@SGVTribune) July 6, 2016