This is an archived article and the information in the article may be outdated. Please look at the time stamp on the story to see when it was last updated.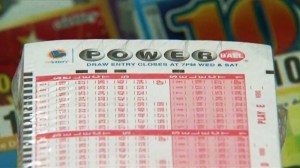 An estimated $425 million jackpot was on the line Wednesday night, when the next Powerball drawing was held, according to lottery officials.
The winning numbers in Wednesday's drawing were 1, 17, 35, 49, 54 and the Powerball 34.
The total cash payout was estimated at nearly $228 million, the Multi-State Lottery Association's website stated.
Winning #Powerball ticket sold in #Milpitas!!! Matched all 6 numbers!

— California Lottery (@calottery) February 20, 2014
2 other tickets matched 5 of 6 numbers! One sold in #ElSegundo. The other in #Modesto. #CheckYourTickets people!

— California Lottery (@calottery) February 20, 2014
The Powerball jackpot rose after no winner was announced following Saturday's drawing, which topped out at $330 million, according to the California Lottery's website.
Drawings take place every Wednesday and Saturday.
The Multi-State Lottery Association has put the odds of winning the jackpot — which would entail hitting all five numbers plus the Powerball — at roughly 1 in 175 million.
Players have an estimated 1 in 5 million shot of matching five numbers and winning $1 million, according to the Multi-State Lottery Association.
Tickets cost $2 apiece.
Because of the higher ticket price, Powerball jackpots are typically larger than SuperLotto or Mega Millions, which cost $1 per ticket.
California became the 43rd state to join Powerball when the lottery game was introduced last April.