This is an archived article and the information in the article may be outdated. Please look at the time stamp on the story to see when it was last updated.
One person was killed and four others were injured in a fiery crash involving several vehicles that left traffic snarled on the 405 Freeway in North Hills Friday.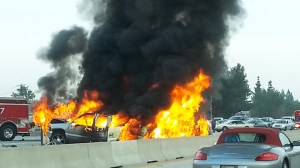 The crash occurred on the southbound side of the freeway near Devonshire Street at about 7:35 a.m., according to Eric French of the Los Angeles Fire Department.
Three of the vehicles caught fire and were badly burned near the center divider, aerial video from Sky5 showed.
A fourth vehicle came to a stop several hundred feet in front of the fiery wreck, and a fifth vehicle was spotted on the right shoulder, the video showed.
A white sheet could be seen covering one the burned vehicles.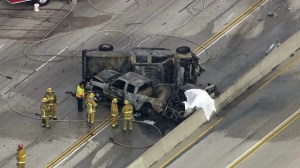 One person was pronounced dead at the scene and four others were injured in the crash, French said.
Of the four injured, one person was taken to the hospital in unknown condition, another person was treated and released, and two people left the scene on their own, according to French.
The crash was described as a chain-reaction collision by California Highway Patrol officer Leland Tang.
"We believe it was as a result of stopped traffic in front of them. Someone probably panic braked and then a rear-end-collision sequence occurred," Tang said.
Both sides of the freeway were shut down at one point, but traffic was moving again on the northbound side at about 8:10 a.m.
Only one lane of traffic was allowed to pass on the southbound side as crews worked for several hours to clear the scene.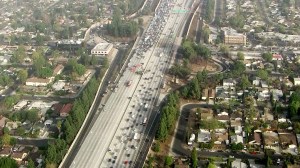 Some southbound drivers used the Devonshire Street onramp to exit the freeway as rush hour traffic continued to back up behind them.
All lanes were reopened to traffic at 1:15 p.m.
More video: