This is an archived article and the information in the article may be outdated. Please look at the time stamp on the story to see when it was last updated.
This is a developing fire story. Please check back for updates.
Firefighters have been able to stem the growth of the 4,100-acre Lilac Fire in San Diego County with containment on the flames rising to 50 percent Saturday evening.
An estimated 1,500 structures remained under threat into the weekend, but several thousand people had been allowed to return home, according to San Diego County officials. The blaze has burned intensely for three days and destroyed at least 182 structures and damaged another 23.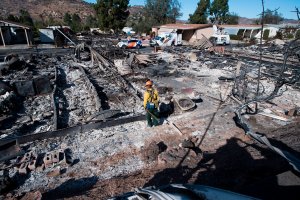 While there was some fire activity overnight Friday, the flames did not push forward, according to John Buchanan with the North County Fire Protection District.
"The weather has been favorable for us," Buchanan told KTLA. "It didn't appear that the winds came that were predicted for us yesterday."
However, crews were still working to control active embers and burning in the fire's interior, he said.
"Our concerns are still mopping up all the hotspots, making sure properties are safe and getting people home as soon as possible," Buchanan said, adding that firefighters would first have to ensure conditions were safe enough so that residents would be able to stay home permanently.
Evacuation orders remain in place for:
• West Lilac Road and Sullivan Middle School
• South of Burma Road, east of Wilshire, north of N. River Road and west of S. Mission Avenue
• South of Reche Road and west of the 15 Freeway
• East of Green Canyon Road and S. Mission Road, north of Highway 76
Evacuation warnings are in effect for:
• North of Pala Road, south Reche Road
• 15 Freeway east of Green Canyon Road and W. Mission Road
• West of Wilshire to N. River Road
• South of N. River Road from Wilshire to Holly Lane
• South of Holly Lane from N. River Road to Mission Road
• South of Little Gopher Canyon Road to Sagewood Road
• South of Dentro De Lomas at Nors Ranch Road
• Via Maria Elena south of Camino Del Rey
Two American Red Cross shelters were open for evacuees and residents without power, as well and their pets:
• Palomar College: 1140 W. Mission Road, San Marcos
• Bostonia Park & Recreation Center: 1049 Bostonia St., El Cajon
Around 850 firefighters remained on scene Saturday. Buchanan said fierce Santa Ana winds mean firefighters feel like they're trying to put down flames in a hurricane.
Describing the scene as the blaze ripped through brush after it first broke out Thursday night, he estimates the flames were traveling at 50 mph as he drove through the Bonsall area.
"It actually rocked the car. I've never been in a hurricane, but just watching that wall of fire come through there — it was hot and blowing hard," he said. "It was like millions of fireflies in the air, just the embers flying through."
The fire exploded from half an acre to 500 acres in 20 minutes on Thursday, according to San Diego County Supervisor Bill Horn.
At least 9,400 customers in northern San Diego remained without power Saturday, according to San Diego Gas & Electric.
The flames have left three people with burn injuries and two firefighters hurt. One firefighter suffered smoke inhalation; the second continued working after a dislocated shoulder was popped back into place, officials said.
For more information, visit SDCountyEmergency.com.
CNN Wire contributed to this report.
Repopulation map from @SDSheriff. The repopulation zone is outside of the blue lines. pic.twitter.com/2zITy5F52I

— CAL FIRE/SAN DIEGO COUNTY FIRE (@CALFIRESANDIEGO) December 9, 2017
As #LilacFire evacuation orders in some areas have changed from mandatory to voluntary, the American Red Cross will consolidate shelter operations to Palomar College.

Bostonia Park & Recreation Center open for those affected by the planned power outages in East County. pic.twitter.com/tgnFPRXKOj

— SDIC Red Cross (@SDICRedCross) December 9, 2017
#LilacFire [update] Fact sheet information for morning update. Next update will be at 7PM this evening. pic.twitter.com/JKlPHl1X9P

— CAL FIRE/SAN DIEGO COUNTY FIRE (@CALFIRESANDIEGO) December 9, 2017
#LilacFire [update] Please see attached images for a news release regarding repopulation. pic.twitter.com/8ZnlmMXR5v

— CAL FIRE/SAN DIEGO COUNTY FIRE (@CALFIRESANDIEGO) December 9, 2017
Scott McLean, a public information officer with @CAL_FIRE, shared this preparedness advice firefighters give their own loved ones on the @KTLAMorningNews pic.twitter.com/GhVZ94jCgB

— KTLA (@KTLA) December 9, 2017