This is an archived article and the information in the article may be outdated. Please look at the time stamp on the story to see when it was last updated.
More than 40 people were arrested and 14 were injured during an annual spring break party in Santa Barbara County, authorities said Sunday.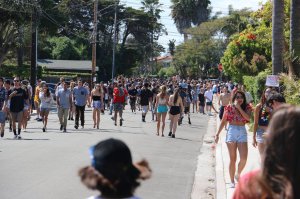 Known as Deltopia, the raucous street party held Saturday is popular among the mostly UC Santa Barbara students who live in the seaside enclave of Isla Vista, adjacent to the campus.
This year, police broke up about a dozen large gatherings in Isla Vista, tended to a 22-year-old woman who fell from a balcony, and arrested a teen who barricaded himself in a home for a half hour, according to Kelly Hoover, a spokeswoman for the Santa Barbara County Sheriff's Office.
Authorities had seen the barricaded suspect, Arod Rahim, 19, about 2 p.m. with what appeared to be an open container, but he resisted arrest, causing a sheriff's deputy to fall and suffer a broken hand, Hoover said.
Read the full story on LATimes.com.