This is an archived article and the information in the article may be outdated. Please look at the time stamp on the story to see when it was last updated.
A 19-year-old man was arrested Monday after El Centro Sector Border Patrol agents found about 43 pounds of methamphetamine in the gas tank of the car he was driving, according to federal authorities.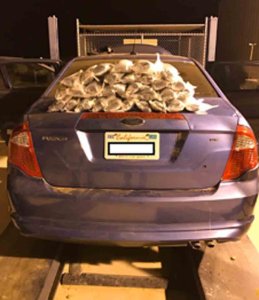 The unnamed man, who was identified only as a U.S. citizen, approached the Border Patrol checkpoint on Highway 86 around 3:40 a.m., a news release from U.S. Customs and Border Protection stated.
After border patrol agents referred him to a secondary inspection, a canine team led investigators to search the undercarriage of the 2010 Ford Fusion, according to the release.
During the investigation, agents found 30 packages concealed in the car's gas tank, authorities said.
The packages tested positive for the "characteristics" of meth, according to the release.
Altogether, the bundles weighed 43.46 pounds and had an estimated street value of $173,840, authorities said.
Agents arrested the man, who was suspected of smuggling the meth, the release stated. He was turned over to the Drug Enforce Administration for further investigation.
El Centro Sector agents have seized more than 317 pounds of meth since Oct. 1, 2016, the start of the 2017 federal fiscal year.