This is an archived article and the information in the article may be outdated. Please look at the time stamp on the story to see when it was last updated.
The 46 Fire that ignited near Rancho Jurupa Park in Jurupa Valley and spread into Riverside was caused by a stolen vehicle that was involved in a pursuit early Thursday morning, police said. The two people involved in the pursuit were eventually arrested.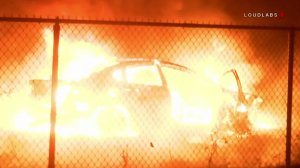 Riverside police officers were on patrol about 12:15 a.m. when they noticed a stolen vehicle traveling northbound on Van Buren Boulevard near the Riverside County line, Riverside Police Department spokesman Ryan Railsback said.
The officers tried to pull over the vehicle but a pursuit ensued.
The driver eventually entered a vacant field in the 4800 block of Crestmore Road in the city of Jurupa Valley, Riverside County Sheriff's Department Deputy Flores said.
Two people who fled the vehicle before it caught fire were arrested, Railsback said. They were identified as Bryan Anguiano, 23, of Jurupa Valley, and Kevin Hidalgo, 28, of Riverside.
Heat from the vehicle's wheels started a fire underneath and the car became fully engulfed, officials said. The fire spread quickly into the field and the the river bottom area.
Anguiano was booked on suspicion of felony evading, car theft, possession of a stolen vehicle, and an outstanding felony warrant for burglary and false impersonation, police said. Cal Fire arson investigators are also expected to charge the suspect with arson violations related to the cause of the fire.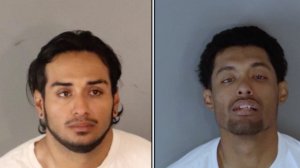 Hidalgo was booked for an outstanding felony warrant for violating his post-release community supervision.
Video from the scene showed the car completely engulfed in flames that quickly burned out of control.
Cal Fire was called a short time later to the 5300 block of 46th Street as the brush fire spread, growing to some 300 acres by midmorning.
Those first on scene reported a quarter-acre of vegetation burning with a rapid rate of spread, Cal Fire said in a written statement.
At least three residential structures and two outbuildings were later destroyed in the fire, which was 50% contained as of about 8:30 p.m., according to Cal Fire.
The fire came as the region was under a high wind warning until noon and a red flag warning until 6 p.m.
The two suspects are being held on suspicion of felony evading, outstanding warrants, possession of a stolen vehicle and will likely be charged with arson, Railsback said.
The @RiversidePolice say Kevin Hidalgo (on left) & Bryan Anguiano r suspects in stolen car pursuit that's believed to have led to #46fire after car became disabled in field & caught brush on fire. RPD says Anguiano was the driver & could face arson charges @KTLA pic.twitter.com/ZPnEBvuj92

— Chip Yost (@ChipYost) November 1, 2019