This is an archived article and the information in the article may be outdated. Please look at the time stamp on the story to see when it was last updated.
A fire that burned through a restaurant in Garden Grove Wednesday morning caused more than $1.5 million in damages, fire officials said.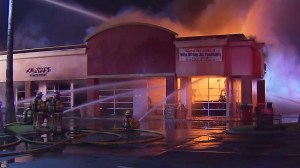 Crews were sent to the 12000 block of Brookhurst Street when the fire was reported just before 3:30 a.m., said Capt. Thanh Nguyen of the Garden Grove Fire Department.
Video from the scene showed firefighters using hoses to douse flames burning through the Claws Restaurant.
Firefighters pulled out of the building when it was determined that the roof was compromised and might collapse, Garden Grove Fire Department officials said in a news release.
A total of 75 firefighters from the Garden Grove Fire Department, Anaheim Fire and Rescue and the Orange County Fire Authority knocked down the blaze in about three hours. The fire was contained to one business and no injuries were reported.
Investigators believe the fire may have started in the kitchen and was accidental.
It caused more than $1 million in structural damage and more than $500,000 in content damages.