This is an archived article and the information in the article may be outdated. Please look at the time stamp on the story to see when it was last updated.
A 56-year-old Redondo Beach woman pleaded not guilty to five felony counts Friday in connection with her having plowed through a red light and into a crowd of pedestrians leaving a church Christmas concert, killing four people including a 6-year-old boy.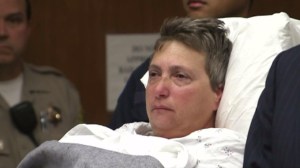 Margo Bronstein was charged Friday with four counts of gross vehicular manslaughter while intoxicated and one count of driving under the combined influence of a drug causing injury, according to the Los Angeles County District Attorney's Office.
She appeared briefly in Torrance Superior Court after being wheeled into the courtroom, handcuffed to a gurney and with two attendants at her side.
Her bail was raised from $300,000 to $500,000 in response to a prosecutor's request related to the "severity of the crime."
Bronstein's attorney unsuccessfully asked that bail be reduced to $100,000, saying his client has no criminal record and a clean driving history.
"This appears to be an accident. It wasn't an intentional act on her behalf," attorney Jeffrey Gray said.
Outside the courtroom, Gray told reporters that people were jumping to conclusions about the case in the absence of a completed toxicology report or blood-alcohol level. He would not go into detail in response police statements that prescription medication was involved in the crash.
"Obviously, she feels terrible. This is nothing more than an accident," Gray said. "We know that Ms. Bronstein does not live her life recklessly."
Earlier Friday, the Los Angeles County Department of Coroner confirmed that Samuel Gaza, 6, died the previous night at a hospital, making him the fourth victim of the crash.
His death came a day after he and 10 other pedestrians were struck by Bronstein's white Saturn sedan on Pacific Coast Highway outside St. James Catholic Church in Redondo Beach.
Samuel, a kindergartner at St. James Catholic School, had been in critical condition after being pulled from under the tire of a vehicle, according to witness Michael Tovar, who had teared up recounting the scene.
"He didn't seem to be in any pain," Tovar said Friday. "The thing that touches me the most is the love that was surrounding me at that time — the gentlemen that were helping him. … I think his dad would be so happy to know that he wasn't alone."
The little boy's mother, 36-year-old Martha Gaza, was killed in the crash, which also left three other family members injured.
Gaza's husband, Glenn, remained at a local hospital Thursday, when he was last reported to be in stable condition.
Two others, 81-year-old Mary Wilson and 87-year-old Saeko Matsumura, also died in the collision. All four of the victims were from Torrance.
Nine others — including Bronstein, and a driver whose car she collided head-on with — were injured, police said. Six of those had been released from the hospital and the other three were in stable condition, police said Friday morning.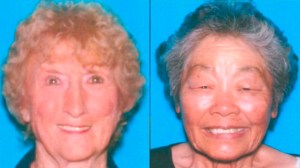 The crash occurred at approximately 8 p.m. Wednesday on PCH at Vincent Street.
Vehicles were stopped at the light at Vincent Street when Bronstein, who was traveling northbound, maneuvered around two lanes of traffic into a left-turn pocked and ran the red light, Lt. Joe Hoffman of the Redondo Beach Police Department said Thursday at a news conference.
After slamming into the pedestrians, Bronstein's vehicle veered into southbound lanes on PCH and collided head-on into an SUV, according to Hoffman. Several people were carried on top of the vehicle, Hoffman said.
Bronstein was arrested at the scene.
It was not immediately clear whether alcohol or drugs were a factor in the crash, but Hoffman said prescription medication was involved "at the very minimum."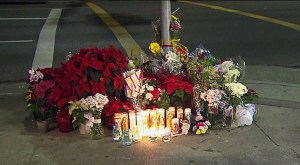 A friend of Bronstein told KTLA she took a significant amount of pain medication and used a wheelchair. Photos posted on her Facebook page showed her using what appeared to be an electric scooter.
Bronstein had several driving-related restrictions on her license, including one that required her to use hand-controlled brakes, according to a Department of Motor Vehicles spokeswoman.
She had no traffic violations on record.
The felony complaint against Bronstein named nine victims and included several great bodily injury allegations. The victims were identified as the four individuals who have died, plus Glenn Gaza, Angela Gaza, Maggie Gaza, Maria Quast and John Fasano.
A vigil was expected to be held at 7 p.m. Friday at St. James Catholic School's field. The prayer service was open to parishioners and school families only, the school said.
Bronstein faces about 40 years in state prison if convicted as charged.
She was due to appear in court again on Jan. 14.
St. James Catholic Church has set up the "St. James Redondo Beach Victims Fund" to help with funeral and other unexpected costs associated with the tragedy such as medical bills.
Click here for more information.
Condolences can also be sent to:
St. James Catholic Church
Attn: Msgr. Michael Meyers
415 Vincent St.
Redondo Beach, CA 90277
More video: