This is an archived article and the information in the article may be outdated. Please look at the time stamp on the story to see when it was last updated.
Investigators found evidence of illegal opium production and firearms manufacturing at a home in Oxnard — a search that led to the arrest of five people, the Ventura County Sheriff's Office said Thursday.
The search happened about 7 a.m. on Wednesday after Ventura County authorities first received information about drug sales and possible illegal firearms manufacturing at an Oxnard home back in June, sheriff's officials said. The home is located in the 3200 block of Taffrail Lane.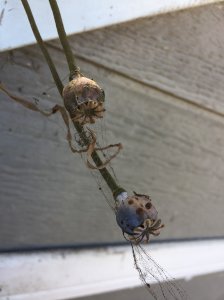 The ensuing investigation led to seizure of an assault rifle, handgun, high capacity magazine, ammunition, and gun/assault rifle pieces and manufacturing parts, according to officials.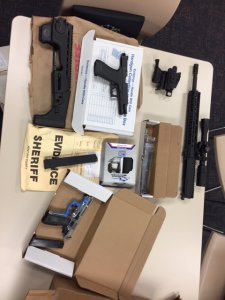 Evidence of the illegal cultivation and production of opium, a Glock 17 pistol, ammunition, prescription medications and various items for the illegal manufacturing of firearms were also found during the search, authorities said.
The five suspects range from 22- to 34-years-old and are accused of various crimes, from felony possession of a firearm to being under the influence of a controlled substance, according to authorities.
Desiree Ayala, 34, was arrested on suspicion of having a felony warrant for possession of a controlled substance for sale, and she's currently in custody without bail. Colin Jones, 28, was arrested on suspicion of being a felon in possession of a firearm and ammunition and on suspicion of possessing a short-barreled rifle, officials said.
Meanwhile, the other three suspects were all arrested on suspicion of being under the influence of a controlled substance, officials said. They include Kyle Jones, 22; Trevor Harnden, 30; and Elaine Larussi, 28.
Colin Jones is currently in custody with his bail set at $50,000 while Harnden is being held on $40,000 bail. Kyle Jones and Larussi are both currently out on bail.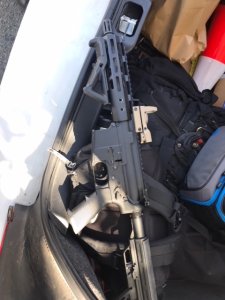 All five suspects are residents of Oxnard.
Authorities said there's still other people expected to be arrested on suspicion of firearms violations as the investigation is ongoing.
The search on Wednesday was done by SWAT officers with the Oxnard Police Department and investigators with the V.C. Sheriff's Office's units for special crimes and gang activity.