This is an archived article and the information in the article may be outdated. Please look at the time stamp on the story to see when it was last updated.
A 31-year-old man who was arrested in connection with a Santa Ana hit-and-run that left three teenage girls dead on Halloween night was driving on a suspended license and had been convicted of a DUI in another hit-and-run that occurred in August.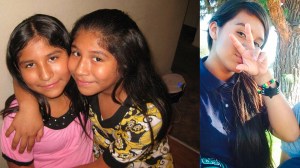 Jaquinn Ramone Bell, 31, was taken into custody outside a Stanton motel on Sunday following a surveillance operation by investigators, Santa Ana Police Department Chief Carlos Rojas said at a news conference Monday.
Bell allegedly had his two teen children in the car at the time of the crash.
Court records indicated Bell had a recent conviction for charges related to a DUI hit-and-run. Bell's driver's license had been suspended Aug. 4, the day of his conviction, according to the DMV.
Twin sisters Lexi Perez and Lexandra Perez were trick-or-treating with their friend Andrea Gonzalez about 6:45 p.m. Friday when the three 13-year-olds were struck by a Honda CRV that witnesses said was traveling "at a high rate of speed," police Capt. Anthony Bertagna said Sunday.
The girls, who were walking in a crosswalk on Fairhaven Avenue at the time of the collision, were thrown more than 100 feet, authorities said. The posted speed limit in the area is 45 mph.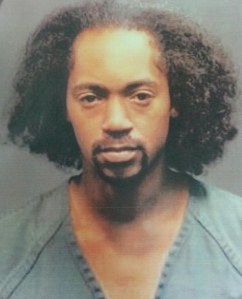 Photos provided by police Monday showed the SUV had a shattered windshield and severe damage to its hood and passenger side.
Asked if Bell was aware that he had been involved in a collision, Rojas replied: "I'm not going to comment on what he might've known at the time. … What I can tell you is, the vehicle had significant damage and there's no doubt in my mind that anybody who was driving in a vehicle that impacted three individuals … probably knew they hit something."
The Honda's occupants abandoned it in the parking lot of a strip mall about a quarter mile from the scene, then fled on foot, according to a witness. The driver and two passengers were later identified by police as Bell and his two children, ages 14 and 17.
The SUV "belonged to somebody associated with Mr. Bell," Rojas said.
An investigation led police to multiple locations before they found Bell at a Motel 6 in the 7400 block of Katella Avenue (map). The suspect has numerous addresses, including one in Orange, Rojas said.
Bell was taken into custody about 11:30 a.m. Sunday along with his mother, half-sister and two minors, who were placed in protective custody.
Rojas declined to discuss Bell's criminal record, but Orange County court records showed that Bell pleaded guilty to misdemeanor charges connected to an Aug. 1 hit-and-run that occurred in Anaheim.
He pleaded guilty Aug. 4 to child abuse and endangerment, driving under the influence of drugs and alcohol, and hit-and-run with property damage. As with the Halloween incident, Bell had underage occupants inside the vehicle at the time of the crash.
Bell was sentenced to three years of probation and 10 days in jail for the child abuse count, as well as eight days in jail for the DUI count. He also got three months in  first-offender alcohol program for the DUI and was ordered into a child abuser's treatment program, court records show.
He also had two warrants out for his arrest in connection with domestic violence allegations at the time of his arrest Sunday.
In connection with the Oct. 31 crash, Bell was booked for felony hit-and-run causing death, Rojas said. The investigation is ongoing.
Authorities initially said Sunday that five people were arrested in connection with the crash. Two other adults who were taken into custody were not publicly identified and have been released, police said. Bell's children were turned over to a legal guardian.
Standing beside a makeshift memorial near the crash scene on Sunday, before details of Bell's alleged involvement were announced, Andrea Gonzalez's brother reacted to news of the arrests.
"The people who did this left them there as if they were nothing. They're finally in custody and have to answer to justice," Josafar Gonzalez said. "That brings such a sigh of relief not just to my parents, not just to the twins' family, but just to the whole community."
Correction: An earlier version of this story stated that two adults taken into custody and later released in connection with the crash were in the vehicle when the girls were hit. In fact, police did not say the two individuals were in the vehicle. The story has been updated.
More Video: