This is an archived article and the information in the article may be outdated. Please look at the time stamp on the story to see when it was last updated.
As crews on Friday cleaned up mud and debris flows in northern Los Angeles County that left dozens of vehicles stranded overnight, authorities reopened all lanes on the 5 Freeway at the Grapevine.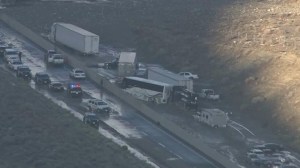 Just before 1 p.m., northbound lanes began to flow again, CHP and Caltrans said.
All southbound lanes reopened shortly after 6 p.m., the Highway Patrol said.
That portion of the freeway, dubbed the Grapevine, is the crucial main roadway that connects the metropolitan Los Angeles area with the Central Valley.
Caltrans crews worked overnight to clear mud and debris from the freeway following Thursday's storm.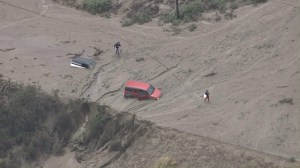 Authorities had shut down a 40-mile stretch of the interstate as torrential downpours, flash floods, and even golf-ball sized hail inundated the region mid-afternoon, causing mud flow and bringing traffic to a standstill.
Motorists became trapped in mud and debris flows that were several feet high in some parts, prompting multiple rescues by Los Angeles County firefighters. It was not immediately clear if any injuries had been reported.
Firefighters also responded to Lake Hughes Road near Elizabeth Lake, where flooding and a mudslide stranded dozens of drivers in the area. Some motorists waited hours for water levels to recede, while others simply abandoned their vehicles.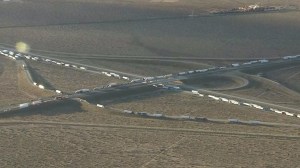 On Friday morning, dozens of crew members and 30 pieces of heavy equipment were working in the area to clear the roadway, according to a tweet from L.A. County Public Works.
In a subsequent statement, the agency said it was working to remove some 300,000 cubic yards of mud and debris from areas throughout the Antelope Valley.
Deputies and Public Works crews went door-to-door to check if anyone was trapped. The occupants of 756 homes were accounted for and safe, according to the Los Angeles County Sheriff's Department.
On State Route 58 between the 5 and 14 freeways near Mojave, some 200 vehicles also remained stuck in mud a day after the severe weather.
Traffic on the 58 was backed up for miles early in the morning, Sky5 video showed.
Meanwhile, some Antelope Valley residents were displaced as a result of the mud, according to Public Works.
The American Red Cross has set up multiple shelters, including one site for 135 kids and 15 adults who were on a field trip from Arvin, which is in neighboring Kern County.
L.A. County Supervisor Mike Antonovich, who represents the northern part of the county, said he planned to ask the Board of Supervisors to declare a local emergency for areas impacted in the Antelope Valley.
Forecasters warned that another round of thunderstorms and mud flows could hit Southern California on Friday.
According to the National Weather Service, storms could develop over the mountains from Santa Barbara County down to L.A. County, as well as parts of the Antelope Valley.
A flash flood watch has been issued for the areas, and was scheduled to expire Friday evening.
KTLA's John A. Moreno contributed to this report.