This is an archived article and the information in the article may be outdated. Please look at the time stamp on the story to see when it was last updated.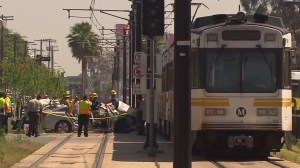 At least 21 people were injured after an Expo Line train collided with a vehicle near the University of Southern California Saturday morning, authorities said.
The crash was reported about 10:50 a.m. in the 900 block of Exposition Boulevard, near Vermont Avenue (map), in the Exposition Park neighborhood of South L.A., according to Shawn Lenske, spokesman for the Los Angeles Fire Department.
Officials from the Metropolitan Transit Authority said in a news conference that the driver of the silver Hyundai Sonata turned right in front of the train.
"The drivers never sees the trains," MTA spokesman Diljiet Sandhu said. "He turned. Obviously there's a signal for the train, there's a signal for the car. He turned in front of the train."
Two train cars derailed as a result of the crash.
Johnny Stevens, a USC student who witnessed the collision, watched from his dorm along with his roommate as firefighters used the Jaws of Life to extricate the driver of the Hyundai.
"We figured it was pretty bad because it took them a long time to get the person out of the car," Stevens said.
The driver was gravely injured in the collision and was last reported to be in extremely critical condition.
The operator of the Expo Line train, later identified as Kenneth Goss, was initially reported to be critically injured. His condition was improving, according to a Metro official who said Goss was at home Saturday night.
Nineteen others suffered minor injuries, the Fire Department said.
Ten of the injured, including the driver and Goss, had been transported to hospitals following the collision, Lenske said.
Officials initially said two vehicles had collided with the train.
MTA planned on using video recorded by the eastbound by the eastbound light-rail train as part of the investigation in an effort to determine whether the warning system worked prior to the crash.
They were also looking into the driver's actions.
"There's no way you can go crossing the street unless you make an illegal turn, because it's supposed to be red," said Jose Urbaldo, a Metro spokesman. "Now that's what we're investigating."
Expo Line service was suspended indefinitely after the crash. Initially, MTA officials said they had hoped to reopen the line by 8 p.m.
Later, they stated they hoped to open road again by midnight and move the train by 2 a.m. Service was expected to resume Sunday morning.
A shuttle bus was being offered while train service was suspended.
Move Video: