This is an archived article and the information in the article may be outdated. Please look at the time stamp on the story to see when it was last updated.
Ten people, including four children, were injured after a compact SUV crashed into a Little Caesars restaurant during the dinnertime rush Monday evening in Pacoima, authorities said.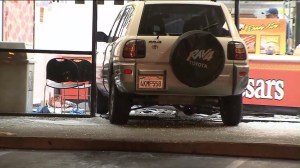 The collision occurred shortly before 6 p.m. in the 12700 block of Van Nuys Boulevard (map), according to the Los Angeles Fire Department.
"We very surprised… the car came through the parking," said Mercedes Ayala, who was inside the restaurant when the crash occurred.
Another woman said people started screaming when the SUV crashed through the glass.
"We were like right next to it. You see the car go inside and a lot of people started screaming," Karen Hernandez said.
Seven patients — three children and four adults — were taken to a hospital, while the other three declined "further care," according to LAFD.
A 5-year-old boy was in critical condition after sustaining head trauma. Six people between the ages of 1-month and 59-years-old had minor injuries, LAFD stated in a separate tweet.
Ayala described the frightening aftermath of the collision.
"I see a little girl on the floor… I see bleeding, everybody on the floor. And the mother for the little girl, she had a big cut on the leg," she said.
Hernandez said the driver was trying to park when the incident occurred.
"She couldn't stop I guess, she kept hitting the gas," Hernandez said.
The unidentified driver, who was believed to be about 60-years-old, was taken to the hospital, according to police. Three other people in the car, including two children, were not hurt.
Police were looking into the possibility that the driver's vision was impaired.
An investigation into what caused the crash was underway.