This is an archived article and the information in the article may be outdated. Please look at the time stamp on the story to see when it was last updated.
Two children were killed, and three others were injured when several pedestrians were struck during a multivehicle crash involving an on-duty Los Angeles County Sheriff's Department deputy vehicle Thursday night in the Boyle Heights area, authorities said.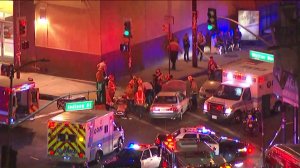 The crash occurred shortly after 7:20 p.m. in the area of Indiana Street and Whittier Boulevard, according to Los Angeles Police Department Officer Tony Im. The location is on the border of East L.A. and Boyle Heights.
The deputies were responding to an emergency call of a gunshot victim and traveling southbound on Indiana when a three-vehicle collision took place near Whittier, LAPD Captain Alfonso Lopez said at a late-night news conference at the scene.
The sheriff's vehicle struck five pedestrians on the southeast corner of the street, according to Lopez
One of victims died at the scene, he said. A second victim was later pronounced deceased after being transported to the hospital, he said.
None of the victims' families have been notified yet, and Lopez would not disclose their names, ages and genders, other than stating that one was a child.
Three other patients were being treated at hospitals; their conditions were not immediately known.
Two deputies were in the SUV at the time of the crash, and both were transported in stable condition, according to Lopez. They were expected to be released from the hospital soon.
The other two drivers involved in the collision were uninjured. Both remained at the scene, police said.
An investigation is underway into the deadly collision, and anyone with information is encouraged to call the East Los Angeles Sheriff's Station at 323-264-4151 or the LAPD Hollenbeck Community Police Station at 323-342-4100. 
Anonymous tips can also be left by calling 877-527-3247.
KTLA's Nidia Becerra and Matt Phillips contributed to this story. 
https://twitter.com/EastLALASD/status/931391251441528832