This is an archived article and the information in the article may be outdated. Please look at the time stamp on the story to see when it was last updated.
Five people were injured, including a 2-month-old baby, when a suspected DUI driver slammed into several vehicles in South Los Angeles early Friday, authorities said.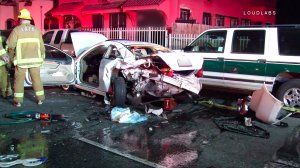 The crash was reported about 12:35 a.m. in the 700 block of East Vernon Avenue, according to the Los Angeles Fire Department.
Surveillance video recorded near the scene shows a vehicle slamming into the back of a car that was parked along Vernon and then hit other vehicles in the area.
The vehicle that was hit had its emergency lights on, and video showed people outside the vehicle frantically waving before the impact.
The suspect vehicle swerved after the crash and plowed into another pedestrian in the area.
Several other vehicles in the area may have been damaged from the crash, Los Angeles Police officials said.
A 25-year-old man had his leg severed in the crash and a 2-month-old suffered minor injuries, officials said. The extent of the other victims' injuries was unknown, police said.
A 27-year-old man who was driving a BMW was taken to hospital and is expected to be charged with felony driving under the influence, police said.
The crash remains under investigation and no other information was available.
KTLA's Irving Last contributed to this story.