This is an archived article and the information in the article may be outdated. Please look at the time stamp on the story to see when it was last updated.
A mountain lion was recovering a week after being rescued from the Thomas Fire in Santa Paula, wildlife officials announced Friday.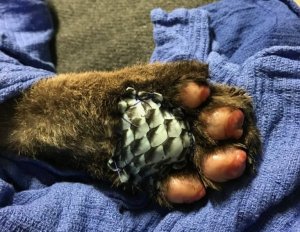 The male lion, estimated to be about 5 months old, was spotted on Dec. 22 with burns on his paws.
California Fish and Wildlife officials and police responded to the scene, and after more than four hours, they were able to blow a tranquilizer dart and capture the mountain lion. Officials then transported him to California Fish and Wildlife's lab in Rancho Cordova for treatment.
In a Facebook post, officials said the mountain lion was responding well to treatment, which included the application of sterilized tilapia fish skin to his most severe injuries.
Doctors in Brazil have successfully used the technique on human burn patents, the post explained. Officials said the fish skin creates a bandage to protect the injury and provides collagen to speed healing.
"Although the lion will likely eventually chew off the bandage, veterinarians hope it will stay in place long enough to speed the healing process," officials said on Facebook.
Due to the animal's age, damage to his habitat and the medical care needed, California Fish and Wildlife plans to place him in captivity.