This is an archived article and the information in the article may be outdated. Please look at the time stamp on the story to see when it was last updated.
Five people were injured and multiple dogs were killed when a brush fire spread to a canine facility in Palmdale Wednesday morning.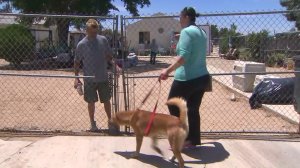 The call about a grass fire burning near a house at West Avenue O-8 and North 11th Street West — next to the 14 Freeway — came in to the Los Angeles County Fire Department about 9:40 a.m.
The address is near Rescue Oasis, a canine-boarding facility that takes in dogs from high-kill animal shelters. A woman who answered the phone at the facility told KTLA her house was on fire.
The blaze burned less than 2 acres, according to fire Inspector Gustavo Medina.
The Fire Department said on Twitter that the brush fire spread to the dog-rescue structure. One outbuilding was damaged.
Two of the five people injured were hospitalized, fire officials on scene said. Two of those injured had dog bites, but it's not clear whether those were the people taken to hospitals.
Five dogs were killed, five other dogs were taken to a veterinarian and are expected to survive, and several other dogs are missing, authorities initially said.
But Rescue Oasis owner Dave Schroeder later said only two of the dogs died and others returned after running away from the flames.
Seven dogs were taken to a veterinarian to be treated, he said.
Schroeder grabbed a garden hose and headed toward his dogs when an employee ran inside Wednesday morning, yelling "fire."
"I ran over to try to let them out of those dog runs, and it was literally a wall flame 20 feet high," Schroeder said.
His knuckles started to burn and blister as the flames closed in on the dogs, but Schroeder was pushed back.
In a Facebook post, an email of Schroeder's said it had been "very traumatic."
"Words can not express our sorrow," she wrote.
A High Desert dog-rescue group called for donations to Rescue Oasis, saying all the dogs had been taken to Val Vista Kennel, also in Palmdale.
More than 100 firefighters responded.
Five people hurt and five dogs died in grass fire in #Palmdale off the 14 Freeway pic.twitter.com/Bh4993y1IW

— Renee Eng (@Renee_Eng) July 6, 2016