This is an archived article and the information in the article may be outdated. Please look at the time stamp on the story to see when it was last updated.
Five people were hurt, including one with critical injuries, in a vehicle crash following a police pursuit in Covina on Friday night, according to Los Angeles County fire officials.
San Dimas sheriff's deputies were in pursuit of a suspected DUI driver when the crash happened near Barranca Avenue and Cienega Avenue, Sgt. Omar Carbajal of the San Dimas station said. The call about the crash came in at about 8:45 p.m., fire officials said.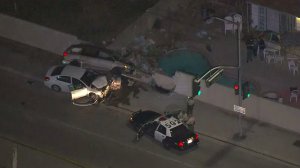 The pursuit suspect was found unconscious and transported to a hospital after the crash, Carbajal said.
Two vehicles were involved in the crash and five people were injured, Carbajal said. The suspect was driving westbound on Cienega Avenue when his or her vehicle collided with another vehicle traveling southbound on Barranca Avenue, he said.
No further information has been released about the incident.
Check back for updates on this developing story.
KTLA's Matt Phillips contributed to this article.