This is an archived article and the information in the article may be outdated. Please look at the time stamp on the story to see when it was last updated.
Five people are on the run after robbing a Garden Grove Walgreens and leading law enforcement on a pursuit Friday morning, police said. At 4:10 a.m., five males with their faces covered entered the Walgreens located in the 12000 block of Euclid Street. One of the five — armed with a handgun — jumped over the pharmacy counter and took several bottles of codeine and other merchandise, according to a news release from the Garden Grove Police Department.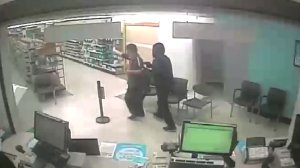 Surveillance video shows one of the masked robbers frogmarching an apparent pharmacy employee at gunpoint. The culprits then fled the store in a car and led police on a short chase northbound on Euclid Street. During the pursuit, the fleeing vehicle abruptly caught on fire and stopped at the intersection of Euclid and Cerritos streets, police said. "They pulled over, and it was
Keystone Cops
," said Lt. Carl Whitney, referring to a series of slapstick comedies featuring bumbling policemen from the early 1900s. Video from a police vehicle chasing the fleeing car shows the robbers tumble out of the smoking vehicle while it is still rolling, then run in separate directions before the car erupts in flames. "You can see in the video that one of the suspects fell down, dropped the backpack," Whitney said. The lieutenant added that some of the cash they stole can be seen blowing away as the thieves make a run for it. Additional evidence was found with the assistance of K-9s, but they weren't able to track down the robbers, Whitney said. Among the evidence was a handgun retrieved with the assistance of Anaheim police and Orange County sheriff's deputies. Police did not release detailed descriptions of the robbers, who were wearing dark clothing and gloves. Anyone with information about this incident can contact Garden Grove police at 714-741-5800.