This is an archived article and the information in the article may be outdated. Please look at the time stamp on the story to see when it was last updated.
A Donald Trump supporter said he and a little girl were among those pepper-sprayed by counter-protesters at a rally outside an Anaheim City Council meeting Tuesday, when the GOP contender was the subject of a controversial measure that would have condemned his "divisive rhetoric."
At least five people were pepper-sprayed at the event, according to Anaheim Police Department Sgt. Daron Wyatt.
Three people were treated by paramedics on scene.
Raul Rodriguez Jr. of Apple Valley said he was attacked by young man who said he had been struck first.
"The kid that sprayed me walked into my bullhorn and he claims that I hit him with it, and he sprayed me in the face," Rodriguez said. "We were here for a peaceful rally and he attacked me. He sprayed me with that spray. That's pitiful."
Wyatt said he didn't know who fired off the pepper-spray. Investigators were looking to identify suspects, he said.
The Orange County Register published photos it said showed the man firing off pepper-spray.
The violent confrontation at Anaheim City Hall occurred in the afternoon, before the City Council was set to vote on a measure that would condemn Trump.
Late Tuesday evening, the council rejected the measure by a vote of 3 to 2.
"Donald Trump has repeatedly attacked people of many races, religions and creeds," the resolution stated, calling for a rejection of Trump's statements as "contrary" to the state and U.S. constitutions and "not being reflective of the City of Anaheim's guiding principles," the Los Angeles Times reported.
Late Tuesday evening, the council voted 3 to 2 not to pass the resolution.
We the People Rising is the name of the pro-Trump group that planned the Tuesday rally, according to the Times.
As the two sides yelled across a grassy area at each other, shouting rose to a fever pitch, video from the scene showed. One Trump supporter pulled out what appeared to be a Taser just before Anaheim police arrived.
It's not clear what happened, but one of the little girls was crying hysterically, apparently alongside her older sister, and paramedics responded. The older girl was placed on a gurney and hoisted into an ambulance.
The two girls were with an older woman who wore a red ball cap with the Trump campaign slogan, "Make America Great Again." She was the girls' grandmother and was also struck by pepper-spray, the Register reported.
Rodriguez, clad in blue Trump baseball cap and red Trump T-shirt, had visibly red skin on his face. He said his attacker had pepper-sprayed one of the little girls as he backed away.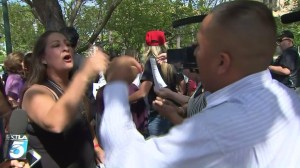 "I don't feel good. My eyes are burning," Rodriguez said.
He said he wanted to seek charges against the assailant, whom he described as Hispanic, 25 to 30 years old and heavy-set.
Many of the Trump critics appeared to be young Latinos. A few dozen protesters total were at the confrontation.
During the rally, Tony Tarantino, the father of film director Quentin Tarantino spoke through a megaphone to Trump supporters, garnering cries of support when he said "I am for America."
"We're supposed to be a nation of laws, and those laws should be the same for everybody," Tarantino said. "They should stop labeling people as African-Americans, Mexican-Americans."
Another woman repeatedly asked a Trump critic if he was in the country illegally.
"My maiden name is Gonzalez, believe it," she cried to the counter-protesters. "But I'm an American citizen and we need borders."
An African-American woman said her candidate, Trump, was "bringing this country together."
"I've met Donald Trump," she said. "He's not a racist. That's why I stand for Donald Trump. … He represents all."