This is an archived article and the information in the article may be outdated. Please look at the time stamp on the story to see when it was last updated.
SAN BERNARDINO, Calif. (KTLA) — A family in San Bernardino on Friday was pleading for the return of five prized bulldogs stolen from their yard.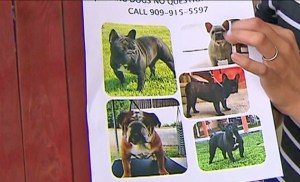 The theft took place sometime between 1 and 2 a.m. on Wednesday in the 6000 block of Guthrie Street, in an unincorporated area near northeast San Bernardino.
The incident was not the first time this has happened to the family, according to authorities.
Two French bulldogs were stolen from them about three months ago and have yet to be found, San Bernardino County sheriff's officials said.
Owner Fernando Juarez enters the dogs into shows, and said they have won several trophies.
But the depth of the loss goes beyond the dogs' monetary value, the family said.
"They're part of our family. We love them, we cherish them, we treat them like our own kids," owner Miriam Juarez said.
"We were very devastated, our kids were devastated," she said. "They were crying. We were all crying."
Friends were helping the family circulate flyers that offered a "huge reward" for the dogs' safe return, with "no questions asked."
The sheriff's department was investigating the thefts. Since the dogs are worth over $950, whoever took them could be charged with grand theft, investigators said.
Anyone with information about the theft was asked to call (909) 915-5597, or the San Bernardino County Sheriff's Department.