This is an archived article and the information in the article may be outdated. Please look at the time stamp on the story to see when it was last updated.
At least five people were shot in separate shootings in Santa Ana on Saturday night, and officials said no suspects have been arrested for the crimes.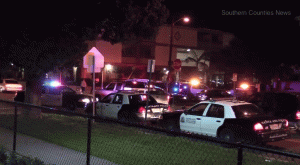 The first shooting was reported about 7 p.m. at an apartment complex in the 900 block of South Townsend Avenue. Several shots were fired and one man was struck in the neck and torso, according to the Santa Ana Police Department.
The man, who police told KTLA was a suspect, is listed in critical condition and may not survive.
A second victim suffered non-life threatening injuries and was taken to a local hospital.
About an hour later officers heard gunshots and responded to the 1400 block of North Durant Street.
Police found an alleged gang member, who had been shot, fleeing the scene but he was detained.
Just before 9 p.m. in the 1100 block of South Standard Avenue, a man was found in an alley suffering from a gunshot wound to the leg. Officers also found several shell casings surrounding the man, officials said.
Three minutes later in the 600 block of South Raitt Street, a 17-year-old male was walking down the street when he heard gunshots and was hit in the back.
A neighbor took the teenager to a hospital, police told KTLA.
Another shooting was reported at 10:45 p.m. in the 900 block of South Main Street where a man was found shot in his legs. Police said another man fired at him from across the street.
Some residents told KTLA they were awakened by the gunshots.
The shootings on Saturday night follow newly released FBI data that shows violent crime has increased in Santa Ana with the murder rate more than doubling in 2016.
Police said no suspects have been arrested, and no suspect descriptions were available.
Five separate shootings were reported on Saturday night, and at least five people were injured.
Nerissa Knight reports for the KTLA 5 Morning News on Jan. 15, 2017.