This is an archived article and the information in the article may be outdated. Please look at the time stamp on the story to see when it was last updated.
Authorities have identified the teen driver arrested after a truck hit four students walking near Paramount High School on Monday.
Saul Martinez, 19, was booked on charges of felony reckless driving at the Los Angeles County Sheriff Department's Lakewood station, according to the agency.
Martinez did not appear to be impaired, the Sheriff's Department said.
The incident occurred as students were leaving school after 3 p.m. near the intersection of Rosecrans and Downey avenues, at the campus' northeast corner, according to Los Angeles County Sheriff's Sgt. Harold Morrow and L.A. County fire officials.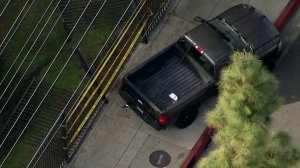 Although Morrow had originally reported five were hit, he later revised the number to four.
Two victims were taken to St. Francis Medical Center in Lynwood and the other two were transported to Long Beach Memorial Medical Center, school Superintendent Ruth Perez told KTLA.
The victims—who were sophomores and juniors— suffered bumps, bruises and broken bones, Perez said. One girl had to undergo surgery but was expected to recover, the superintendent said.
All four were in stable condition on Monday night, Perez said.
The black pickup that struck them was first seen speeding down Downey Avenue and was attempting to cut in front of another car, witnesses said. But the truck was traveling too fast to make the lane change and spun out, spinning out onto the sidewalk where it hit three girls and one boy.
"When he had spun out of control, all I see is four students get hit and I seen them flying towards the gate, and the gate had fell," bystander Ulises Moreno said. "I just see these students on the floor."
Aerial video from the scene did indeed show fencing around the school had been knocked down by the force of the impact and was roped off with caution tape.
The boy's mother ran to the scene crying and expressing concern that she didn't have medical insurance for her son, according to Moreno, who said the boy appeared to have suffered the most extensive injuries.
"When I seen him, he was gushing blood from his face," he said.
Sheriff's officials confirmed the vehicle was out of control, and the driver was arrested on suspicion of reckless driving.
Martinez was tentatively scheduled to appear at Compton Superior Court on Wednesday.
No further details were immediately available.
KTLA's Matt Phillips contributed to this report.