This is an archived article and the information in the article may be outdated. Please look at the time stamp on the story to see when it was last updated.
Four people - three of whom were teenagers - were arrested Saturday after a police standoff related to a violent armed robbery of a nearby marijuana dispensary in Upland, authorities said.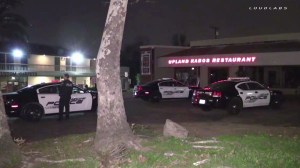 The hourslong barricade situation occurred at an apartment in the 1300 block of Randy Street (map) around 4:40 a.m., less than a mile from a marijuana dispensary where an armed robbery that resulted in two victims being injured was committed Friday night, according to the Upland Police Department.
During the more than six-hour barricade, an undisclosed number of people were evacuated from neighboring apartments and the San Bernardino County Sheriff's Department SWAT team was called to assist in the situation, according to a department news release.
Around 11 a.m., three alleged robbers turned themselves over to the police and were then arrested and taken to the Upland Police Department.
"A short time later" police learned the fourth alleged robber was hiding in an apartment in a neighboring building. He was also located and arrested without further incident.
Two of those arrested were said to be 15-year-old men. The other two were identified as 19-year-old Diego Sanchez of Upland and 30-year-old Christopher Baca of Covina.
The men were arrested for allegedly ambushing three male victims around 11 p.m. Friday as they exited the marijuana business, located in the 700 block of North Mountain Avenue (map), the news release stated.
The victims were forced back into the building, where they were bound, one was pistol-whipped and another was shot in the leg, officials said.
After about an hour, one of the victims was able to free himself and called police.
The victim who was shot was hospitalized and expected to survive their injuries, the news release stated.
The robbers stole an unspecified amount of cash and fled in one of the victim's 2007 Lexus IS 250, according to police. The car was described as dark gray with the license place No. 6ZOV300.
The vehicle was located a few blocks from the dispensary an undisclosed time, the news release stated.
The four arrested men were expected to be booked for robbery, assault with a deadly weapon and kidnapping. The 15-year-olds were to be booked at the San Bernardino County Juvenile Hall, and the two identified men were to be booked at the West Valley Detention Center.
Police originally said five men committed the robbery, but later clarified it was believed to be four. A different barricade address and time of the initial robbery was also originally provided.