This is an archived article and the information in the article may be outdated. Please look at the time stamp on the story to see when it was last updated.
Family members, friends, classmates and teammates were mourning the loss of five Orange County teenagers who were killed over the weekend in a fiery single-vehicle car crash on the 5 Freeway in Irvine.
A candlelight vigil was held Saturday night at Laguna Hills High School where two of the victims, Jenny Campos and Jenny Bahena, were students and members of the water polo team.
Flowers, candles and pictures were placed around the school's pool, and a large crowd of students gathered there to remember and honor the 14-year-old girls.
"I love her, I'll always keep her in my heart," one female student said through tears.
Another student added, "I'm going to miss her, a lot."
Campos and Bahena, along with Alex Sotelo, Matthew Melo and Brandon Moreno, died after an unlicensed 16-year-old driver lost control of the four-door BMW sedan on the southbound freeway just north of Alton Parkway and slammed into an embankment early Saturday.
The car burst into flames, sparking a quarter-acre brush fire, according to Capt. Steve Concialdi of the Orange County Fire Authority.
The crash remained under investigation Sunday. A CHP official has stated that speed may have been a contributing factor.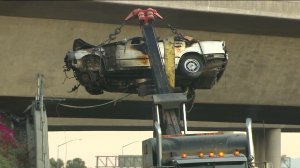 The teens were headed home from Buena Park around 2:15 a.m. after attending Knott's Scary Farm, the Knott's Berry Farm theme park's annual Halloween event.
The victims all died at the crash scene.
The driver, who was either ejected from the car or climbed out after it stopped, had a severe head injury and was taken to Mission Hospital, which released a statement identifying him as Bradley Morales.
He was in serious but stable condition as of Saturday evening.
Friends, classmates and the boys' soccer coach provided the names of the five teens killed to KTLA.
As of early Sunday afternoon, the Orange County Sheriff's Department had not formally released their identities yet.
Billy McNicol, the coach of the Mission Viejo Club team that the three male teens played for, said his players were heartbroken over the news.
"Kids were breaking down. Families were breaking down," a choked-up McNicol said. "These are good boys. So sad."
Two of the boys attended Capistrano Valley High School. Students there expressed sadness and shock over the boys' sudden deaths.
"Just feeling so, just so bad, and just asking God, 'Why is this happening?" said one female student who had known the boys since preschool.
Thousands attended a memorial that was held at the high school in Mission Viejo on Sunday night.
Meanwhile, the soccer team canceled all of its games for the weekend as players and their family members came to terms with their devastating loss.
"Its breaks our heart. Every family in the club has offered, 'What can I do?' 'How do I help?'" McNicol said. "Just, go hug your kids a little harder, you know."