This is an archived article and the information in the article may be outdated. Please look at the time stamp on the story to see when it was last updated.
About 10 tons of illegal fireworks were discovered Thursday afternoon at an industrial business in Rico Rivera, according to police.
The fireworks were being sold out of Thomas Brothers Tube Bending, at 4747 Citrus Drive (map), where two adults were taken into custody, an El Monte Police Department news release stated.
Those in custody were not being identified, but police said they were believed to be the owner of the business and an employee.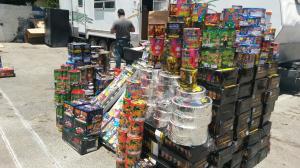 "Detectives who are on scene are being approach by customers attempting to buy the illegal fireworks, while we are dismantling the operation," the release stated.
The fireworks were found inside a trailer and multiple storage containers. The material was being loaded for transport to a secure facility, according to police.
It was not immediately clear how El Monte police became involved in the bust in Pico Rivera, which is patrolled by the Los Angeles County Sheriff's Department.
In a separate case, undercover police officers in Santa Ana busted an illegal fireworks operation on Thursday after answering an ad on Craigslist.
Officers found the fireworks in a garage at a residence in the 1100 block of West Stanford, according to a news release from the Santa Ana Police Department.
The resident was arrested and the fireworks were taken to an Orange County Fire Authority facility in Anaheim to be destroyed, the release stated.