This is an archived article and the information in the article may be outdated. Please look at the time stamp on the story to see when it was last updated.
Six women filed civil lawsuits Monday alleging that a longtime gynecologist at the University of Southern California sexually victimized them under the pretext of medical care and that USC failed to address complaints from clinic staff about the doctor's behavior.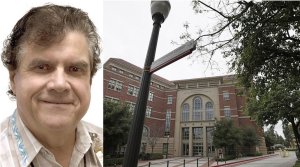 One woman alleged Dr. George Tyndall forced his entire ungloved hand into her vagina during an appointment in 2003 while making "vulgar" remarks about her genitalia, according to one of the lawsuits. Another woman alleged that Tyndall groped her breasts in a 2008 visit and that later he falsely told her she "likely had AIDS." A third woman accused the doctor of grazing his ungloved fingers over her nude body and leering at her during a purported skin exam, the lawsuit states.
The wave of litigation comes as USC continues to grapple with the scandal, which legal experts said could prove costly to the university as scores of former patients come forward about their experiences with the gynecologist.
Tyndall, 71, who worked at USC's student health clinic for nearly three decades, could not immediately be reached for comment Monday. In earlier interviews with The Times, the physician defended his medical exams as thorough and appropriate, adding that frank and honest dialogue about sex lives was part of his way of treating late adolescents who were enrolled at USC.
Read the full story on LATimes.com.