This is an archived article and the information in the article may be outdated. Please look at the time stamp on the story to see when it was last updated.
Two people were detained after six were shot at a house party attended by nearly 100 people in North Hollywood early Sunday, police said.
Officers responded to complaints about a loud party at 12719 W. Tiara St. at around 1 a.m. and saw people running from a residence as several gunshots erupted, according to authorities.
Investigators determined that six people had been shot at the residential area, Lt. Bob Toledo of the Los Angeles Police Department told KTLA. Some of them ran toward the officers arriving at the scene, Toledo added.
Earlier, LAPD Det. Meghan Aguilar told KTLA five individuals shot "in various locations on their body" were taken to the hospital.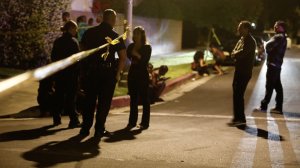 Two others were hurt as crowds ran out of the home, Aguilar said. All injured were in stable condition, including one female who underwent surgery, the officer added.
A news release from the L.A. Fire Department identified the patients as five males and two females.
Although two people were taken into custody, as many as 30 casings found inside the home and on the street suggested there were more than two shooters, Toledo said.
The lieutenant told KTLA the residence might have been rented through Airbnb, and that close to a hundred people attended the party. Some of them came from the Inland Empire and the South Bay, Toledo said.
Victor Viercek, who lives across the street from the house, told KTLA he heard gunshots from outside his window.
"We [thought] 'Did somebody get shot or it's just somebody shooting into the sky?'" Viercek said.
The incident might have been gang-related, Toledo said.

Correction: An earlier version of this broadcast and article misspelled the last name of a resident who spoke to KTLA. The post has been updated.