This is an archived article and the information in the article may be outdated. Please look at the time stamp on the story to see when it was last updated.
A 5-year-old boy was fatally struck by an SUV Tuesday evening in South Los Angeles and police were searching for the driver, the Los Angeles Police Department reported.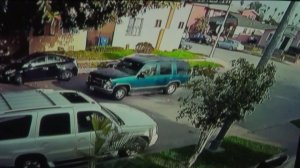 The fatal crash happened about 5:15 p.m. at the intersection of 82nd Street and Towne Avenue. The crash was captured on a home's surveillance camera with footage showing the driver traveling about 40-45 miles per hour, LAPD said.
Police said the boy was playing when he ran into the street.
"It appears that he was running back to his residence and ran into the path of the Tahoe vehicle," LAPD Detective Ruben Mendoza told KTLA.
Witnesses told police the suspect vehicle turned the corner, stopped for a moment, then sped away.
Witnesses said the boy may have been hit by the SUV a second time when it fled.
The 5-year-old boy was taken to a local hospital where he died, LAPD Officer Mike Lopez told KTLA.
The suspect is described as a Black male, between the ages of 19 and 25.
The suspect vehicle was described as a mid-1990s green, Chevrolet Tahoe or Suburban, with tinted rear windows and front end damage, police said.
Police said there was a passenger in the SUV.
No other information was immediately available.
KTLA's Nidia Becerra contributed to this story.