This is an archived article and the information in the article may be outdated. Please look at the time stamp on the story to see when it was last updated.
A 5-year-old Phelan boy was being called a hero Monday for saving his grandmother's life during a fire at the family's home using lessons he learned just two days earlier on a field trip to a local fire station.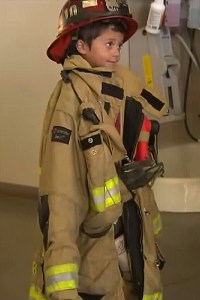 Nathaniel Stocks was one of 100 kindergarteners from Phelan Elementary School who toured County Fire Station 10 last Thursday, according to a news release from the San Bernardino County Fire Department.
Along with a tour, the students were taught lessons on fire safety, including "stop, drop and roll," exit drills, and when to call 911, the release stated.
Then on Saturday, Nathaniel woke up coughing and realized the space heater in his bedroom was on fire, officials said.
Instead of panicking, fire officials said Nathaniel crawled down the hallway beneath the smoke and alerted his grandmother.
Nathaniel and his grandmother got out of the house safely before firefighters arrived, the release stated.
They couldn't immediately find was the family dog, Tinkerbell, but firefighters were able to locate the Chihuahua, which was hiding in the bathroom.
The fire was knocked down in approximately 15 minutes, and there were no injuries, the release stated.