This is an archived article and the information in the article may be outdated. Please look at the time stamp on the story to see when it was last updated.
Hundreds of barrels of crude oil spilled in a Ventura canyon Thursday morning after a pipeline started leaking, prompting the response of multiple hazardous materials teams that were able to contain the oil, authorities said.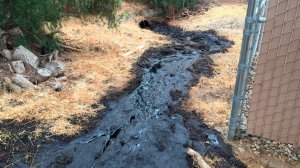 The leak was initially reported from an inland platform about 5:30 a.m. near Hall Canyon Road and Sunset Drive, about 1 mile inland of San Buenaventura State Beach, according to the Ventura County Fire Department and the U.S. Coast Guard.
By 8:45 a.m., it had flowed about a half-mile down Prince Barranca, a winding gorge, fire Capt. Mike Lindbery tweeted.
Authorities first estimated that approximately 5,000 barrels had spilled before adjusting the amount to 700.
Members of Coast Guard Marine Safety Detachment Santa Barbara and an MH-65 Dolphin helicopter crew were sent out to conduct an assessment of the spill, a Coast Guard news release stated.
Firefighters and hazardous materials crews staged at the location of the leak to prevent it from getting to the beach, a county fire official said.
Crimson Pipeline contacted the National Response Center to help with the cleanup, according to the Coast Guard.
A Fire Department tweet later stated that the oil was contained in the gorge, and authorities on scene said the spill was stopped in Hall Canyon after flowing down from Prince Barranca. No oil reached the ocean, a city of Ventura news release said.
"We were able to do a damming and diking operation with our agencies working together, and stopping the flow of oil from making it even through the city, much less down to the ocean," Ventura City Fire Department Chief David Endaya said at a noon news conference.
An initial estimate placed the spill at about 210,000 gallons, according to a Fire Department spokesperson, explaining that each barrel contains about 42 gallons of oil. The figure was provided before the number of barrels was adjusted.
No evacuations were ordered, but an alert was sent out to local residents warning them of the spill, according to Lindbery.
Air quality in the area is being monitored, he added. The cause of the leak was under investigation, and the pump station where it originated was shut down, the city said.
In addition to the Ventura county and city fire departments and the Coast Guard, the California Department of Fish and Wildlife, Office of Spill Prevention and the Oxnard Fire Department responded.
KTLA's Melissa Pamer, Alberto Mendez and Jennifer Thang contributed to this story. 
#VCAlert sent to area residents #GroveInc #Ventura. No current evacuations or direct impacts. Air quality being monitored @Venturaoes

— VCFD PIO (@VCFD_PIO) June 23, 2016
#GroveInc #Ventura #CrudeOil total amount of oil out of pipeline has been adjusted to 700 barrels. It has flowed 1/2 mile down barranca

— VCFD PIO (@VCFD_PIO) June 23, 2016