This is an archived article and the information in the article may be outdated. Please look at the time stamp on the story to see when it was last updated.
LAPD officials on Thursday announced a $50,000 reward for info in the killing of a 56-year-old man who was shot while family members were in a vehicle with him in Arlington Heights.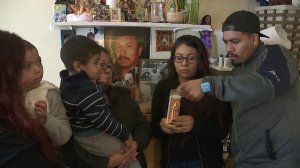 Lucio Garcia was pulling into a parking spot near his home in the 1600 block of South Van Ness Avenue early on July 20 when he was shot multiple times through the window.
His daughter and two young grandchildren were in the vehicle with him at the time, and his daughter had a graze wound to the forehead. The children were not injured.
The gunman was described only as being 20 to 25 years old and he was wearing a white shirt. He ran away from the scene, Los Angeles police officials said during a news conference in front of the victim's home.
"I don't know what my father did to deserve to be killed in front of his own home," Garcia's daughter, Alejandra Garcia said during the news conference.
She described her father, a retired construction worker and handyman, as being very helpful to his family and neighbors.
"He was my own personal mechanic," she added.
Garcia loved to cook and play with his grandchildren, his daughter said. "He was devoted to us."
Vanessa Garcia, who was in the vehicle with her father when he was shot, said her oldest son says he misses his grandfather.
"He didn't deserve to die that way," Vanessa Garcia said, fighting back tears. "It hurts everyday that he's not here."
Police said they have exhausted all leads in the case and are hoping for witnesses to come forward and help with the investigation.
Lt. John Radtke said there is no known motive in the case and that the family had "no reason" to be harmed."
"We need help from the community, right here, right now," he said.
Anyone with information about the case can call 213-382-9570.