This is an archived article and the information in the article may be outdated. Please look at the time stamp on the story to see when it was last updated.
Family members and police are asking for the public's help in finding the gunman who fatally shot an innocent bystander during a gang-related shooting in Santa Ana.
The body of Jose Peralta, 24, was found around 6 a.m. Sunday by a neighbor in the front lawn of a home in the 600 block of West Main Street in Tustin. Investigators say Peralta was an innocent bystander shot in the 200 block of South Cedar Street in Santa Ana while inside a parked car, police told KTLA.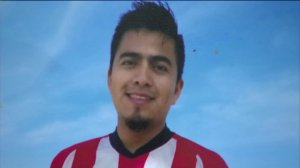 Police said Peralta was an innocent bystander who had just left a family party and was in a car with two friends when someone opened fired.
"The victim and his friends were in the line of fire," Santa And police Sgt. Julian Rodriguez said at a news conference on Tuesday. "There was a suspect group that did in fact shoot at another group of individuals in the street."
After the shooting police said Peralta's friends drove him to Tustin and left his body on the front lawn of a random house.
"His friends ultimately drove him there, we believe they panicked and they did not know what to do at that point," Rodriguez said.
Peralta's family, who tearfully described him as a hard-working man who sent money to his ill mother in Mexico and raised his two young nephews, said they don't understand why his friends didn't call 911 or take him to a hospital.
"For them just to leave him like that like he was nothing, it's agonizing for us not to know exactly what happened," Maria Soto, Peralta's sister-in-law, said.
The two friends who left Peralta in Tustin originally fled the scene after unloading his body, police said. One friend turned himself into police, the other friend was later located by investigators. Rodriguez said the two men have since been cooperating with police and no charges have been filed against them.
At Tuesday's news conference Soto pleaded with the public to come forward with any information about her brother-in-law's killing.
"We don't want anyone else to suffer like we are suffering. He was a good, young man with a lot of dreams that were cut short," Soto said. "They took a good person from us. We are begging you if you saw anything please call the police."
Family members said Peralta had plans to move back to Mexico with his mother next year. He worked at a construction company and sent his mother $500 every two weeks to help support her and pay her medical bills.
The city of Santa Ana is offering a $50,000 reward for information leading to the arrests of the gunman. Anyone with information was asked to call 714-245-8390.
Peralta's case was originally being investigated by Tustin police and is now being handled by the Santa Ana Police Department.