This is an archived article and the information in the article may be outdated. Please look at the time stamp on the story to see when it was last updated.
Tens of thousands of dollars worth of valuables were stolen Monday from the Hollywood Hills home of Grammy Award-winning songwriter Toby Gad, according to Gad and the Los Angeles Police Department.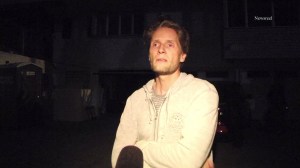 At about 7:30 p.m., investigators learned that a theft had taken place in the 3500 block of Wonder View Drive (map), according to Sgt. Cueto of the LAPD's Hollywood Division.
Between $50,000 and $55,000 worth of gold coins and cash were stolen from the property, LAPD Det. Raymond Conboy said at the scene.
Construction is taking place at the home, and it was not immediately clear whether the multi-platinum songwriter and music producer was staying there at the time.
According to Gad, there have been "quite a lot" of burglaries in the neighborhood recently.
"We have a little bit of a neighborhood watch network where we e-mail each other if things look suspicious, and there's been a lot of activity later," he said.
No further information about the theft was immediately available.
The 46-year-old Gad has penned a number of No. 1 hits, including "If I Were a Boy" by Beyonce and "Big Girls Don't Cry" by Fergie, according to his website. He has also collaborated with an array of high-profile artists including Madonna, John Legend and Kelly Clarkson.
Move Video: