This is an archived article and the information in the article may be outdated. Please look at the time stamp on the story to see when it was last updated.
A $50,000 reward is being offered in the search for the suspect or suspects responsible for the fatal shooting of a 22-year-old riding his bicycle in Mid-City last year, authorities said Tuesday.
Steven Lopez was found shot and was being cradled in his sister's arms when officers responded to the scene in the 4700 block of West 17th Street around 10 p.m. on March 18, 2018, according to the Los Angeles Police Department. He had been shot multiple times and was not conscious or breathing when authorities arrived.
Lopez's sister had gone outside after hearing gunshots from their home, police said. He was pronounced dead at the scene.
"My brother died in my arms … I don't like talking about it," Liana Lopez told reporters on Tuesday, struggling to speak.
"It's hard for me to talk about my brother. I can't," she said, crying as she stepped away from the microphone.
Speaking before her daughter, Flavia Hernandez sobbed as she pleaded for help in solving her son's killing.
"I ask you with all my heart, say something, don't stay quiet. Look at how I am suffering for my only son … this hurts," she said in Spanish as she broke down in tears.
At the age of 7, Lopez was hospitalized for a tumor to his brain and underwent several surgeries that affected his speech, motor skills and memories, LAPD Lt. John Radtke said. He also suffered from seizures and often wore a hat to cover the scarring left to his head.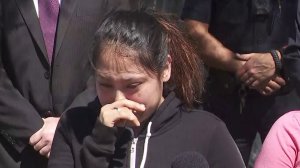 "Everyone in this neighborhood knows Steven," Radtke said, standing in the same spot where the 22-year-old was fatally shot. "They've been around him since he was a little kid."
There was some gang activity in the neighborhood at the time of the shooting, which is why detectives believe Lopez's killing is gang-related — even though Lopez was not involved in gangs himself, according to Radtke.
"The victim is not a gang member," Radtke said.
"There are people out there right now that know exactly what happened," he said. "I need them to pick up the phone."
According to LAPD, a preliminary investigation found that Lopez was riding his bicycle when two males approached him and opened fire. Police have not given ages for the two individuals, who are both described as suspects.
Lopez collapsed on the sidewalk as the two suspects fled on foot, police said.
Radtke said they took off eastbound on West 17th Street and got into a dark-colored sedan before driving away eastbound. They have only been described as wearing dark-colored clothing.
LAPD officials are asking for the public's help in identifying the two male suspects, and the L.A. City Council has approved a $50,000 reward for information leading to the arrest and conviction of the killers.
Anyone with information can contact Detectives Jorge Cruz or John Lamberti at 213-382-9470. During non-business hours, or on weekends, tipsters should call 877-527-3247.
Anonymous tips can be forwarded to L.A. Regional Crime Stoppers at 800-222-8477 or www.lacrimestoppers.org.
KTLA's Cindy Von Quednow contributed to this report.