This is an archived article and the information in the article may be outdated. Please look at the time stamp on the story to see when it was last updated.
Authorities confiscated more than 500 firearms from the Agua Dulce home of a convicted felon, the Los Angeles County Sheriff's Department announced on Monday.
The agency said its Palmdale station received a tip that a local man with a felony conviction was keeping a large arsenal of firearms.
Officers served a search warrant at a residence on the 34700 block of Caprock Road the morning of June 14 and seized 432 firearms, according to the Sheriff's Department.
Deputies took 60-year-old Manuel Fernandez into custody.
The warrant led detectives to search the home of Fernandez's female associate in Agua Dulce, the Sheriff's Department said.
Deputies seized 30 illegal firearms from the residence in the 34900 block of Sweetwater Drive, according to the agency. That person, whose name was not released, has not returned to the home, the Sheriff's Department said. Detectives were working with the district attorney in that case, the agency added.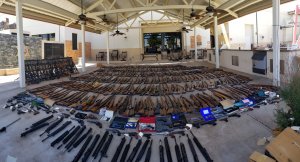 In a follow-up search on June 15, officers seized 91 more firearms hidden in Fernandez's home, authorities said. Investigators also took computers, cellphones and hard drives connected to the suspect's alleged illicit purchase of weapons.
The large number of firearms prompted the Sheriff's Department to enlist the help of the Bureau of Alcohol, Tobacco, Firearms and Explosives to trace the weapons' origins.
Fernandez was booked at the Palmdale sheriff's station on suspicion of possession of firearms and ammunition as a felon and possession of an assault rifle and large capacity magazines, the Sheriff's Department said.
The suspect bonded out from L.A. County Medical Center's jail ward on June 15, according to the agency. He was scheduled to appear at the Antelope Valley Courthouse on July 9.