This is an archived article and the information in the article may be outdated. Please look at the time stamp on the story to see when it was last updated.
A U.S. citizen traveling with his three stepchildren was arrested at a U.S. Border Patrol checkpoint near Salton City after agents found more than 50 pounds of cocaine in his car, federal authorities said Monday.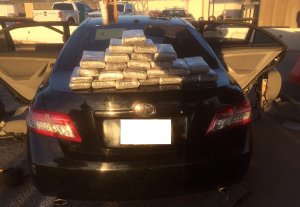 The unidentified 21-year-old man was stopped about 4:30 p.m. Feb. 3 at a checkpoint on Highway 86, near the southwest shore of the Salton Sea, according to a news release from U.S. Customs and Border Protection.
A K-9 with the agency alerted to the 2010 black Toyota Camry, and the car was sent on to a secondary inspection, where agents found hidden compartments in the vehicle's floor.
Twenty-four wrapped packages of cocaine weighing nearly 57 pounds were found in the compartments. The drugs had a street value of about $678,000, the Border Patrol said.
The driver was arrested on suspicion of smuggling cocaine, and the drugs were turned over to the U.S. Drug Enforcement Administration.
The stepchildren — ages 10, 7 and 6 — were put into the custody of Imperial County's child protective services agency.
Agents with the Border Patrol's Imperial Valley-based El Centro Sector have seized more than 320 pounds in cocaine since Oct. 1, 2016, when federal fiscal year 2017 began, the release stated.