This is an archived article and the information in the article may be outdated. Please look at the time stamp on the story to see when it was last updated.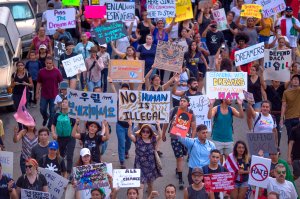 Six California beneficiaries of the Deferred Action for Childhood Arrivals program sued the Trump administration Monday for rescinding protections for young immigrants without legal status.
In the 46-page suit filed in U.S. District Court in San Francisco just after midnight, the so-called Dreamers claimed Trump's decision to phase out the DACA program over the next six months "was motivated by unconstitutional bias against Mexicans and Latinos."
The federal DACA program shields from deportation nearly 800,000 immigrants who were brought to the U.S. illegally as children, providing recipients with renewable two-year work permits.
The lawsuit seeks to block the Trump administration from ending the program.
Read the full story on LATimes.com.